About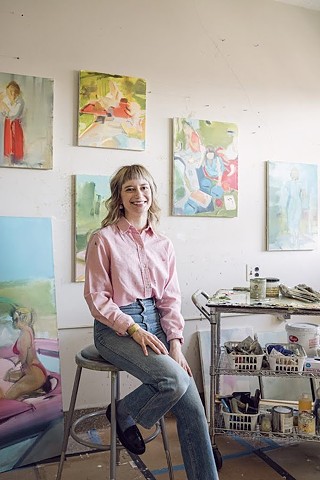 CARLY SILVERMAN (American, b. 1983) grew up in Baltimore, Maryland. She received her Bachelor of Fine Arts in painting from the Maryland Institute College of Art (MICA) in 2006 and later received her Master of Fine Arts in painting at the School of the Art Institute of Chicago (SAIC) in 2011. Her work has been exhibited in Baltimore, Chicago, New York, Miami, San Francisco, and San Antonio. She has attended residencies at the Bemis Center for Contemporary Arts in Omaha, NE, The Vermont Studio Center in Johnson Vt., and Chashama in Brooklyn, NY. Silverman is represented by Zolla/Lieberman Gallery in Chicago, IL and recently had a solo show at the Bee in the Lion Gallery in New York City. She lives and works in Jersey City, NJ.


My work explores femininity within contemporary city life. Engaging with the work, viewers experience both feelings of familiarity and uncertainty. The images are relatable to the modern women, however they seem to feel not quite right, as if to exist in a dream-like state.
Addressing the familiar aspect, my subject matter captures brief moments in time experienced by all women: the intimacy of two friends conversing as the world unfolds around them; a woman's confidence exuding through her gait; a break as a reprieve from the heat of the city in the summer. These moments are often overlooked due to the omnipresence of technology, disconnecting one's casual observations from everyday life.
However, my work also invokes uncertainty. The subject is often in an indiscernible location, rendered against an abstracted background. The context is unclear as my work only depicts a moment in time. Obscured faces lend to the feeling of anonymity, as when one takes a fleeting glance at a stranger.
The result is an ambiguous feeling. The subjects seem simultaneously friendly but distant, familiar but unknown, and clear but unintelligible.